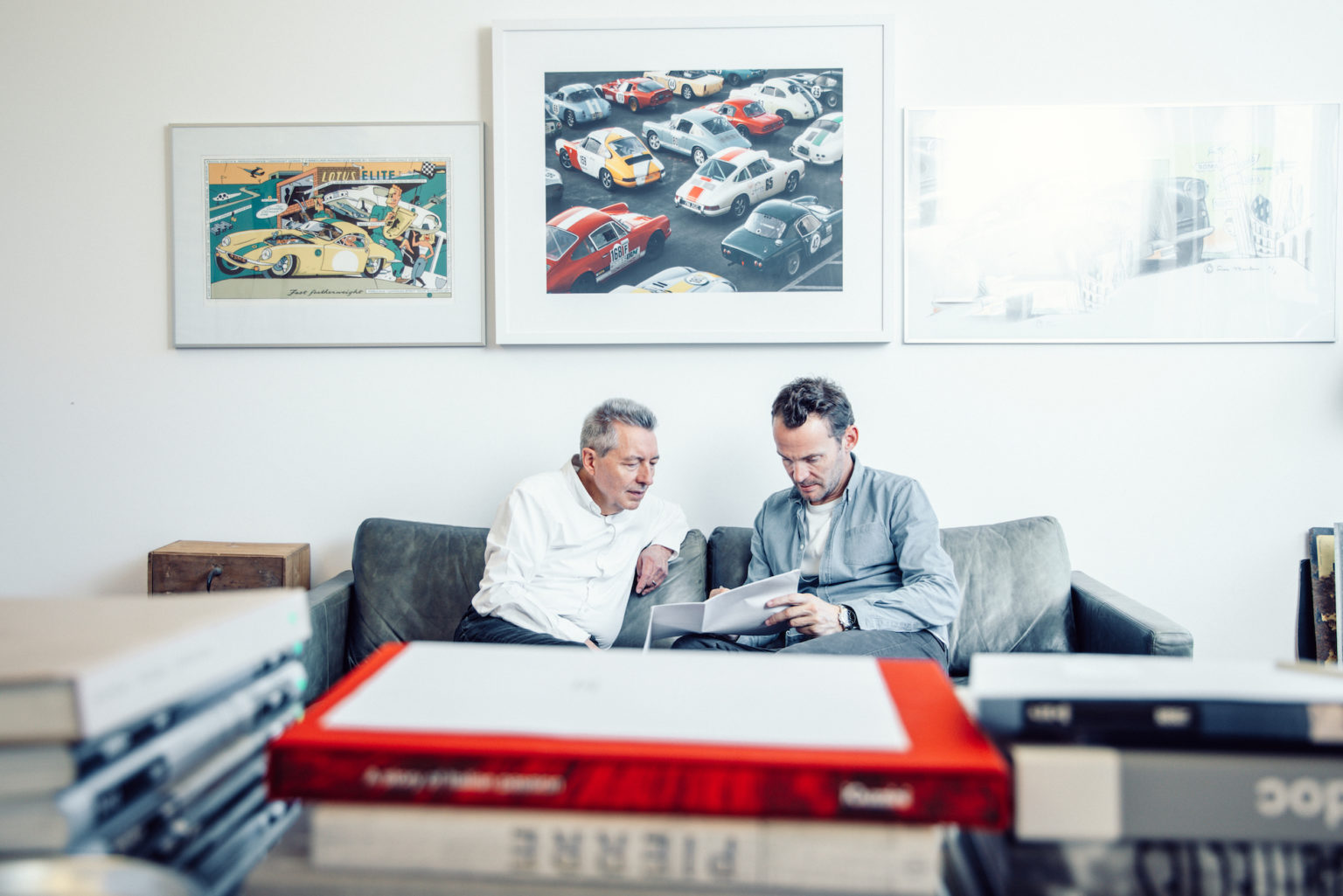 PRÉSENTATION DU BUREAU
JEAN LOCHER (1952) ET PIERRE WINTHROP (1979), SE SONT ASSOCIÉS EN 2009 POUR FONDER TOUT D'ABORD LE BUREAU SAS SPECIFIC ARCHITECTURAL SOLUTIONS (SAS ARCHITECTURE) AVEC GAEL GINGGEN, DEVENU EN 2021 WINTHROP+LOCHER+PARTNERS. ILS SONT REUNIS AUTOURS DU THÈME QU'UNE ARCHITECTURE CONVAINCANTE EST UNE ARCHITECTURE DURABLE ET INTELLIGENTE. NOUS RÉPONDONS SPÉCIFIQUEMENT ET STRATÉGIQUEMENT AUX QUESTIONS DE BUDGET, DE LÉGISLATION ET DE CONTEXTES : « NOUS LES EXPLOITONS ET NOUS EN TIRONS PARTI. NOUS INTÉGRONS LA QUALITÉ DE L'AIR ET DE LA LUMIÈRE, AINSI QUE LA PERSPECTIVE HUMANISTE DU "VÉCU" D'UN ESPACE DONNÉ. L'EXPRESSION D'UNE ÉPOQUE MÛRIT ET S'INSTALLE DANS LE TEMPS. NOUS CONSTRUISONS POUR PERDURER. NOUS DÉVELOPPONS UNE RELATION ÉTROITE AVEC NOS CLIENTS POUR LEUR PROPOSER DES SOLUTIONS CRÉATIVES, FONCTIONNELLES ET EFFICACES: INTERVENTION MINIMUM, EFFET MAXIMUM ».
PIERRE WINTHROP ET JEAN LOCHER SONT ENTOURES D'UN RESEAU DE SPECIALISTES, INGENIEURS ET EXPERTS CONSEQUENTS QUI SONT TOUS LES MEILLEURS DANS LEURS DOMAINES. TOUT SE CONSTRUIT SUR LA BASE D'UNE COMPLÉMENTARITÉ DE COMPÉTENCES, DE COMPLICITÉ, ET DE SENSIBILITÉ ARCHITECTURALE. DEUX ARCHITECTES DE DEUX GÉNÉRATIONS, AUTOURS D'UN MÊME PROJET: UNE ARCHITECTURE INTELLIGENTE ET DES SOLUTIONS ARCHITECTURALES SPÉCIFIQUES.
LES RÉALISATIONS DE WINTHROP+LOCHER+PARTNERS SE SITUENT DANS DES DOMAINES AUSSI DIFFÉRENTS QUE L'HABITATION, LES COMMERCES, LES RESTAURANTS ET BARS, LES ESPACES DE TRAVAIL, LES ÉTABLISSEMENTS MÉDICAUX. WINTHROP+LOCHER+PARTNERS ÉTEND SES PRESTATIONS À LA SIGNALÉTIQUE, AU MOBILIER ET AU DESIGN INDUSTRIEL AVEC SANDRA BINDER, GRAPHISTE.
PRESENTATION OF THE OFFICE
JEAN LOCHER (1952) AND PIERRE WINTHROP (1979) JOINED FORCES IN 2009 TO FOUND THE OFFICE SAS SPECIFIC ARCHITECTURAL SOLUTIONS (SAS-ARCHITECTURE) WITH GAEL GINGGEN, WHICH IN 2021 BECAME WINTHROP+LOCHER+PARTNERS. THEY ARE UNITED AROUND THE THEME THAT CONVINCING ARCHITECTURE IS SUSTAINABLE AND INTELLIGENT ARCHITECTURE. WE RESPOND SPECIFICALLY AND STRATEGICALLY TO QUESTIONS OF BUDGET, LEGISLATION AND CONTEXT: "WE USE THEM AND BUILD ON THEM. WE INTEGRATE THE QUALITY OF AIR AND LIGHT, AS WELL AS THE HUMANISTIC PERSPECTIVE OF THE "EXPERIENCE" OF A GIVEN SPACE. THE EXPRESSION OF AN ERA MATURES AND SETTLES IN TIME. WE BUILD TO LAST. WE DEVELOP A CLOSE RELATIONSHIP WITH OUR CLIENTS IN ORDER TO OFFER THEM CREATIVE, FUNCTIONAL AND EFFECTIVE SOLUTIONS: MINIMUM INTERVENTION, MAXIMUM EFFECT".
PIERRE WINTHROP AND JEAN LOCHER ARE SURROUNDED BY A NETWORK OF CONSEQUENT SPECIALISTS, ENGINEERS AND EXPERTS WHO ARE ALL THE BEST IN THEIR FIELDS. EVERYTHING IS BUILT ON THE BASIS OF COMPLEMENTARY SKILLS, COMPLICITY AND ARCHITECTURAL SENSITIVITY. TWO ARCHITECTS OF TWO GENERATIONS, WORKING ON THE SAME PROJECT: INTELLIGENT ARCHITECTURE AND SPECIFIC ARCHITECTURAL SOLUTIONS.
WINTHROP+LOCHER+PARTNERS ACHIEVEMENTS ARE IN FIELDS AS DIFFERENT AS HOUSING, SHOPS, RESTAURANTS AND BARS, WORKSPACES AND MEDICAL ESTABLISHMENTS. WINTHROP+LOCHER+PARTNERS EXTENDS ITS SERVICES TO SIGNAGE, FURNITURE AND INDUSTRIAL DESIGN WITH SANDRA BINDER, GRAPHIC DESIGNER.
PRÉSENTATION DES SENIORS PARTNERS:
JEAN LOCHER EST NÉ À LAUSANNE EN 1952. TITULAIRE D'UN DIPLÔME D'ARCHITECTE DE L'EIG (1974) ET D'UN DIPLÔME POST-GRADE EN SAUVEGARDE DU PATRIMOINE BÂTI EAUG-EPFL (1993). IL EST ACTIF DEPUIS 1978 EN TANT QU'ARCHITECTE INDÉPENDANT OU EN ASSOCIATION. IL A RÉALISÉ DE NOMBREUSES CONSTRUCTIONS EN SUISSE, DONT NOTAMMENT LA RÉHABILITATION DU BÂTIMENT PLACE DE L'EUROPE 9 À LAUSANNE, LA NOUVELLE UNITÉ DE NÉONATOLOGIE DU CHUV (AVEC AAX ARCHITECTES), LE CENTRE DE LA CHOCOLATIÈRE À ECHANDENS OU ENCORE LA RÉNOVATION INTÉRIEURE DU MUSÉE OLYMPIQUE DE LAUSANNE (2001). IL A EGALEMENT RÉALISÉ DE NOMBREUX PROJETS RÉSIDENTIELS DE MOYENNE OU GRANDE AMPLEUR TELS QUE 103 LOGEMENTS SOCIAUX DANS LE QUARTIER DE MONTELLY A LAUSANNE (2015), UN COMPLEXE D'IMMEUBLES EN PPE A PULLY (2021), MAIS AUSSI DE NOMBREUSES TRANSFORMATIONS DE VILLAS PRIVEES A TRAVERS LA RIVIERA ET LE CANTON.
PIERRE WINTHROP EST DE NATIONALITE SUISSE ET FRANÇAISE ET D'ORIGINE ANGLAISE, EST NÉ À PARIS EN 1979. DÉBUTANT SES ETUDES A L'ECOLE D'ARCHITECTURE DE PARIS LA VILLETTE, IL INTEGRE L' ECOLE POLYTECHNIQUE FÉDÉRALE DE LAUSANNE (EPFL) EN 2002 POUR OBTENIR UN MASTER EN ARCHITECTURE EN 2006. IL A COLLABORÉ À DIVERS PROJETS INTERNATIONAUX AU SEIN DE PLUSIEURS BUREAUX À PARIS, À LONDRES ET À LAUSANNE. EN 2007, IL A NOTAMMENT REMPORTÉ LE CONCOURS POUR LE GRAND STADE LILLE-MÉTROPOLE (FRANCE) EN TANT QUE CHEF DE PROJET POUR LE BUREAU PARISIEN VALODE ET PISTRE. IL CO-DIRIGEA ENSUITE A LONDRES L'ANTENNE DE L'ARCHITECTE HOLLANDAIS ERICK VAN EGERAAT. IL EST ACTIF EN TANT QU'INDEPENDANT OU EN ASSOCIATION DEPUIS 2009. IL A NOTAMMENT RÉALISÉ LE BAR DES ARCHES (2010), L'ABC (2012), LE DCLUB (2016), MAIS AUSSI TRANSFORMÉ LA CLINIQUE DE LEUKERBAD (2013), LE COPPERNIC A l'EPFL (2017), BRETAYE1808 A VILLARS (2018-19) OU ENCORE LE THEATRE DE L'OCTOGONE A PULLY (2019). IL A COLLABORÉ AVEC PHILIP MORRIS INTERNATIONAL POUR CREER ET DEVELOPPER LE DESIGN DES IQOS STORES (2015) ET L'UNIVERS IQOS (AVEC ALEXANDRE BOYER ET FUSE PROJECT), PUIS LES HEADQUARTERS DE LA MARQUE A LAUSANNE EN (2017).
PRESENTATION OF SENIOR PARTNERS:
JEAN LOCHER WAS BORN IN LAUSANNE IN 1952. HE HOLDS A DIPLOMA IN ARCHITECTURE FROM THE EIG (1974) AND A POST-GRADUATE DIPLOMA IN THE PRESERVATION OF THE BUILT HERITAGE OF THE EIG-EPFL (1993). HE HAS BEEN ACTIVE SINCE 1978 AS AN INDEPENDENT ARCHITECT OR IN ASSOCIATION. HE HAS COMPLETED NUMEROUS CONSTRUCTIONS IN SWITZERLAND, INCLUDING THE RENOVATION OF THE PLACE DE L'EUROPE 9 BUILDING IN LAUSANNE, THE NEW CHUV NEONATOLOGY UNIT (WITH AAX ARCHITECTS), THE CHOCOLATE FACTORY CENTRE IN ECHANDENS AND THE INTERIOR RENOVATION OF THE OLYMPIC MUSEUM IN LAUSANNE (2001). HE HAS ALSO CARRIED OUT NUMEROUS MEDIUM TO LARGE-SCALE RESIDENTIAL PROJECTS SUCH AS 103 SOCIAL HOUSING UNITS IN THE MONTELLY DISTRICT OF LAUSANNE (2015), A COMPLEX OF BUILDINGS IN PPE A PULLY (2021), AS WELL AS NUMEROUS CONVERSIONS OF PRIVATE VILLAS ACROSS THE RIVIERA AND THE CANTON.
PIERRE WINTHROP IS OF SWISS AND FRENCH NATIONALITY AND OF ENGLISH ORIGIN, WAS BORN IN PARIS IN 1979. HE BEGAN HIS STUDIES AT THE PARIS LA VILLETTE SCHOOL OF ARCHITECTURE, HE JOINED THE ECOLE POLYTECHNIQUE FÉDÉRALE DE LAUSANNE (EPFL) IN 2002 AND OBTAINED A MASTER'S DEGREE IN ARCHITECTURE IN 2006. HE HAS COLLABORATED ON VARIOUS INTERNATIONAL PROJECTS IN SEVERAL OFFICES IN PARIS, LONDON AND LAUSANNE. IN 2007, HE WON THE COMPETITION FOR THE GRAND LILLE-MÉTROPOLE STADIUM (FRANCE) AS PROJECT MANAGER FOR THE PARISIAN OFFICE VALODE ET PISTRE. HE THEN CO-DIRECTED THE LONDON OFFICE OF DUTCH ARCHITECT ERICK VAN EGERAAT. HE HAS BEEN ACTIVE AS A FREELANCER OR IN ASSOCIATION SINCE 2009. he has notably realised the BAR DES ARCHES (2010), the ABC (2012), the DCLUB (2016), BUT ALSO TRANSFORMED THE CLINIC OF LEUKERBAD (2013), THE COPPERNIC AT EPFL (2017), BRETAYE1808 IN VILLARS (2018-19) OR THE THEATRE DE L'OCTOGONE IN PULLY (2019). HE COLLABORATED WITH PHILIP MORRIS INTERNATIONAL TO CREATE AND DEVELOP THE DESIGN OF THE IQOS STORES (2015) AND THE IQOS UNIVERSE (WITH ALEXANDRE BOYER AND FUSE PROJECT), THEN THE BRAND'S HEADQUARTERS IN LAUSANNE (2017).